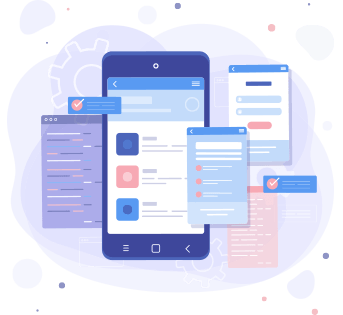 Mobile Application Development Company

Things to Consider While Looking for a Good Custom Mobile App Development Company 
Tech4Life certificates : ISO 9001 – ISO 27001 – ISO 20000 – CSQE 
Since the dot-com era, there has been an unprecedented rise in app development companies.
Success stories like Uber, Instagram, and PayPal have influenced countless people to follow their footsteps and create customized mobile apps according to their business niche. From big media and healthcare companies to Fintech startups and IT giants, everyone is investing in custom app development services. Building quality mobile apps is both a requirement and a competitive advantage now.
And development firms, the people who make it happen, are also becoming more abundant as businesses battle over software.
How, therefore, do you identify the "cream of the crop" custom mobile app development company? There are many of those who can code, but not many are business savvy. What you need is a reliable team of mobile app developers who understand your vision and follow tried-and-tested methodologies – a real tech ally.
Well, this article will spell out the trick, starting with a quick rundown on the custom app for business and what you should look for when choosing a mobile application development company.
On This Page :
1 . What is custom mobile app development ?
2 . overview of the current custom mobile app development market
3 . Why should you choose custom mobile app development ?
4 . Key areas to consider in a custom mobile application development company
5 . Must – Have traits of a mobile application development company
6 . Tech4Life as your custom mobile application development company
7 . Over to you
What is Custom Mobile App Development?
As self-explanatory as it can be, custom mobile application development is the process of creating mobile apps to entirely address your unique business requirements. The goal is to fulfill the needs of a specific group of people instead of general users.
Custom mobile apps for business, aka tailor-made or bespoke applications, offer out-of-the-box features and capabilities that generic off-the-shelf products do not. Every business has its unique set of workflows, target markets, and objectives. Thus, to improve the efficiency of their operations as well as customer experience, businesses must leverage the opportunities presented by the innovation in mobile apps.
Overview of the Current Custom Mobile App Development Market
As per reports, the app development market is estimated to generate over USD 1039 billion by the end of 2027. If you are planning to increase your digital footprint by building custom apps, here are a few statistics to look at:
Every month, around 85000 new mobile apps get released in the Play Store and App Store.

People spend 90% of their mobile time on applications.

There are 6.648 billion mobile phone users in the world.

On average, 11-20 apps are installed on a user's phone.

By 2023, the number of app downloads will reach 15.3 billion.

49% of users open mobile apps more than 11 times in a day
These figures undoubtedly inspire businesses to create customized mobile apps. Embracing custom mobile application development services would subsequently help businesses of all sizes and industries in streamlining their workflow, providing superior customer experience, and resolving mission-critical business issues.
For custom app development services, the US and Canada are important marketplaces. More quickly than in South Asia or Europe, this region's market will flourish. It has increased as a result of consumers using smartphones and businesses creating apps that are continuously shaping the latest mobile app development trends on a global scale.
Why Should You Choose Custom Mobile App Development?
Today, customizing your mobile app is a surefire strategy to increase the satisfaction rate of users. You can also implement high-end functionalities that are not available on the operating system.
Custom mobile app developers create bespoke products that cater only to your target market by improving customer experience and implementing innovative ideas that would benefit users.
Here are a few potential advantages of custom mobile application design and development: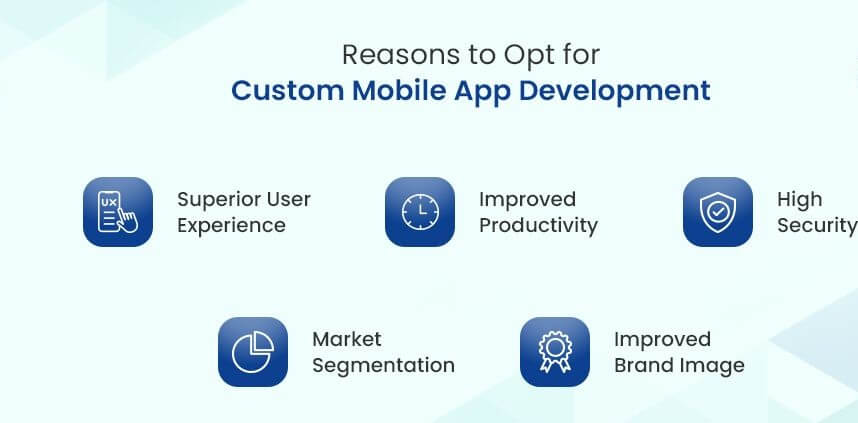 Superior User Experience
Custom mobile apps enable mobility and make it simpler for users to utilize your products or services. Users will feel more acknowledged and valued using mobile apps if you provide them with a personalized and user-friendly UI.
Improved Productivity
Businesses can get a tailored workflow with custom mobile app development. Users can access the app at any time, any place, communicate in real time and share information through their mobile devices.
High Security
Custom app developers can integrate highly secure authentication techniques, such as two-factor authentication, to limit access to authorized users. You can also provide your users with different levels of access in a custom app for business.
Market Segmentation
Bespoke mobile apps allow you to deliver content that is based on user preferences and interests. Users will be able to experience your services from a more personalized angle and will feel the app to be more valuable as a result.
Improved Brand Image
There is no denying that user-friendly and successful mobile apps can help you boost your brand's reputation as you can demonstrate that the business is professional and aware of its customers' needs.
Key Areas to Consider in a Custom Mobile Application Development Company
Businesses often struggle to find and hire the ideal mobile app development company. Everyone wanted to hand over their dream project to the right custom app development services so that the finished product will produce the best possible results.
Even though app creation costs, development experience, and company portfolio are still important to take into account when selecting the best mobile app developers, there are several obvious signs that must consider before making the final choice.
Here are the nine signs, although frequently overlooked, that are essential for choosing a great mobile app development firm: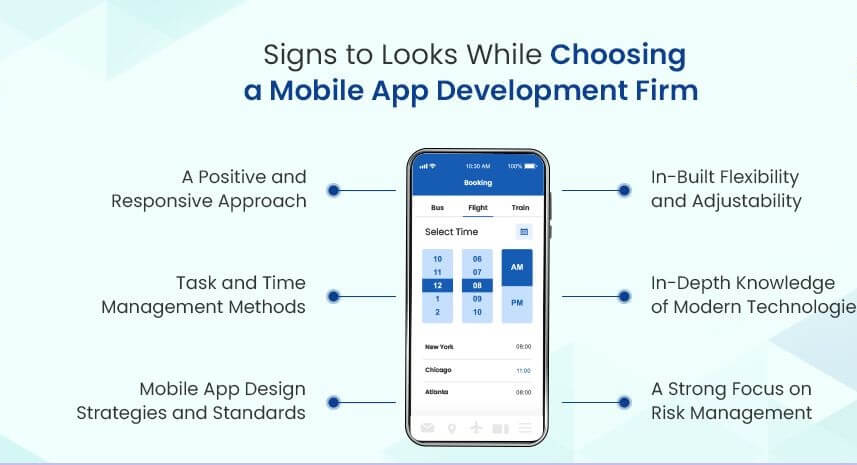 1. A Positive and Responsive Approach
The success of your product should matter to a good custom mobile application development company. They must have a positive outlook and be ready to go the extra mile to complete the task.
Professional developers cannot always avoid crunch times, although it is important not to frustrate them with tight deadlines. A great mobile app development team will step up and get the work done as quickly as possible when you need to launch a product or deliver a certain feature by a deadline.
The amount of time it takes to receive any response is another telltale sign. Quick responses to client questions give a credible impression of the developer's interest in your project. Although the majority of development firms use automated email responses, there should always be a human representative to read and react to specifications and business requirements.
2. Task and Time Management Methods
Professional mobile app designers and developers are incredibly reliable. They are committed to their work and keep everything on track. Knowing how much time a task will take to complete, communicating that estimate, and following through on it are all crucial skills of a developer. Instead of you controlling them, good app development companies should be excellent at managing their teams or clients.
An ideal way to test any mobile application development house and ensure these skills is to make a short-term contract and conduct a review phase where everyone provides feedback on the development team. The secret is early identification of your team's assets and liabilities, followed by a performance-based team evaluation.
At times, you must make the difficult choice to remove someone from the team and try someone else if they are not performing as you want them to. At Tech4Life, we regularly check on our clients to make sure everyone is on the same page, give trial periods for new engagements, and provide free consultations.
3. Mobile App Design Strategies and Standards
UI/UX designs and patterns have been a hot topic ever since the so-called Gang of Four published their well-known Design Patterns book. In our world, patterns are present everywhere – in nature and in all human endeavors. And mobile app development is no different.
Interface patterns are recurring events and procedures that exist in all languages and operating systems. A skilled mobile app development company is always aware of many design patterns and makes use of them, but it is not their only motivation. The developers see chances to apply designs rather than trying to push the application into a predetermined set of patterns.
Applying an intuitive interface provides accuracy since it makes use of previously developed knowledge: a strategy for resolving a specific technical challenge that has been successful in the past.
Besides, a subpar app design will damage your brand's reputation, in addition to worsening the user experience and forcing customers to uninstall the app. Hence, hire mobile app designers with experience in creating engaging user interfaces. Innovative thinkers and designers know how to create an app that offers a seamless user experience, is visually appealing, and stands out among the target audience.
4. In-Built Flexibility and Adjustability
Flexibility and adaptability are two of the most important characteristics of custom mobile app development services. A rigid workplace environment will not promote productivity.
Since the step-by-step process of creating mobile apps can be unpredictable, experienced app developers are aware that company requirements may change at any time and that they may have to deal with unforeseen challenges.
And if a situation calls for optimal results, a great company should be able to deliver them with excellence. Custom app developers must tinker with technologies and reengineer processes to meet the requirements of the business. They also continually seek proactive ways to make things better.
As they say, average developers just fix problems after they arise, but experienced developers fix issues before they affect users.
5. In-Depth Knowledge of Modern Technologies
An ideal mobile application development company has worked with a broad range of technologies and is proficient in using the best ones for your project. It is always a good idea to hire an app developer who has experience with a product or technology that is similar to yours.
The right company will adhere to code quality and coding standards to write clear and easy-to-read code. They can swiftly come up with the best answers by combining their cognitive skills and extensive industry experience. A seasoned mobile app development team should be able to work with the best DevOps tools and different project management like Git, Jenkins, Jira, and so on.
You can ask for previous work samples, give them a quick programming challenge to solve or conduct a technical interview to ensure that the company you choose has the required technical expertise.
6. A Strong Focus on Risk Management
Changes might come as a surprise and are not always desirable. Trouble always finds its way into a complicated project of building custom apps. In light of this, the development team creating your mobile apps needs to be excellent at managing IT risks. In addition to ensuring the confidentiality of your project, they must build safety buffers and identify possible security threats.
Getting a draft of a non-disclosure agreement (NDA) is a good sign that your mobile application design and development house has the skills to manage risks. As a result, nobody, not even your competitors, will be able to steal your mobile app concept and idea. If they freely discuss potential threats and how to address them, it is also a good indicator.
On the other hand, if the custom app development services provider is overly confident and positive for the whole project, you should start looking for other developers with a more methodical approach. There might not be anything wrong with the carefree app development house. However, if anything turns up, you could be looking at a loss of tens of thousands of dollars or more. You do not want to throw your money that way.
7. Post-Deployment Support and Maintenance
The quality of post-launch support is one of the essential characteristics that set a competent mobile application development company from the average ones.
Even when the mobile application development process is complete, there is still a lot of work to do on your product. Your application still needs care even if it is well-designed, well-tested, and user-oriented.
The company's attitude towards its customers is where this starts because reputable app development firms see their customers only as their partners. They do not only care about the functionality of the app but also about how it is helping the client in optimizing their infrastructure. In order to identify any hindrances and provide on-demand technical assistance, they heavily invest in post-deployment support and maintenance services.
Regular stability and safety checks would be an added benefit. Your custom application development company should be able to make sure that your solution is up and running continuously. To guarantee efficient functionalities and superior user experience, they must address all potential problems. Keep in mind that an unplanned and critical error in the app could cost you money and customers.
Must-Have Traits of a Mobile Application Development Company
The qualities of an ideal custom mobile app development house go beyond technical proficiency. What matters the most are empathy, vision, creativity, and listening. Many IT companies think that the success of their business is directly related to their ability to write good code, which brings a product to life.
Although this capability holds tremendous importance, what they overlook is the fact that this will not always be the case. More and more of these jobs, including programming and data processing, will fall under the radar of AI and computers in the future. So, liberal arts qualities, like innovation, teamwork, and ethical judgment will be critically important to create custom mobile apps that yield results.
Hence, successful mobile app developers should possess not just excellent technical skills but also the needed "human" qualities, such as:
Eagerness to collaborate on new projects, exchange knowledge, and help the team streamline tools and procedures.

Creatively motivated; a good app development team works just eight hours a day. They never give up on a task before it is finished.

Always ready to get into the field and focused on the needs of the customer.

Thinking creatively and independently without any biases.

Always prepared to scrap some legacy systems and start from the ground up to improve product quality.
Tech4Life as Your Custom Mobile App Development Company
As mentioned above, we believe that having a graceful combination of soft skills and technical capabilities is what you should look for in a custom app development house. Developing a successful mobile app that ticks all the boxes is not an easy task and at this time, writing thousands of lines of good code is not the only solution
Having said that, our developers at Tech4Life are proficient in both. While their industry-leading technical skills ensure a seamless development lifecycle of your mobile app, the quality of the end product is often a result of how well our development team works together.
To have a positive and long-lasting impact on an engagement, our developers utilize more than just their left brain. They make the most of their interpersonal attributes and personality traits to strengthen the integrity of the team and work in line with the client's mission and vision.
We don't work as a temporary extension of your app development team; we work as peers sharing the same organizational goal as yours!
Over to YouLet this checklist serve as a reminder of the qualities and attributes you should be searching for in a custom mobile application development company. as well as the reasons you should always prioritize these areas.It is the responsibility of every CEO/CTO to find the most ideal development team for one of the biggest investments of their organization. Leaders who recognize the value of these essential qualities in app development and are willing to take on the task of finding the most suitable partner will be able to hit the jackpot.Therefore, do your research, thoroughly examine all the signs of custom mobile app development services we covered in the blog, schedule a couple of meetings, discuss with our in-house team, and only then finalize your decision.How about starting with us? It's going to be a totally free consultation with no strings attached. Reach out to us now!
Mobile Development Agency
Customer-focused, creating strategic mobile solutions that deliver tangible business results, Tech4Life's mobile application development services help brands navigate any and all facets of the digital landscape.
"The expertise brought to the table by Appnovation's team was key to helping Infowrap launch its native apps in the Apple App Store as well as the Google Play Store. These guys work hard, very hard. We were amazed at every point of contact to learn they were navigating our issues and helping to shape a successful product regardless of the difficult challenges that were seemingly always in play. "
Mariem Abdelmonem
Project Manager , Tech4Life
As a leading mobile app development agency for enterprise level entities, Tech4Life is known for having top mobile app developers with extensive expertise and experience creating high performing, feature-packed and digitally transformative mobile experiences.
We can build robust, fully scalable and secure enterprise grade native mobile apps on the iOS and Android platforms. Additionally, as experts at HTML5 mobile development, Tech4Life can also build cross-platform mobile applications that will work seamlessly on any device or platform.
Companies and organizations choosing Tech4Life as their mobile application development services company for their custom app development needs can be assured that their final deliverable, no matter the technology it's built on, will be of the highest of quality, thoroughly tested and completely sustainable in whatever environment it's hosted.
Furthermore, as a full service mobile app development firm we offer a complete suite of offerings in addition to development that include mobile strategy, design, integration, migration and upgrade, as well as through our Managed Services group, are able to provide 24×7 support and maintenance.
Experience Led & Outcome Focused
We help brands understand the role digital can play in realizing strategic opportunities and solving real world business problems, always keeping the focus on the customer's experience and the results generated.
Experienced Mobile App Development Firm
With top mobile app developers on staff, we can create native or cross-platform solutions that can work seamlessly across all platforms and operating systems: smartphone, tablet or laptop or running iOS or Android.
Transparent, Collaborative, Communicative
Complete project visibility and multiple open lines of communication from day one. We are available when you need us and continually updating you on your project's status.
Proven, Rapid & Trusted Delivery
Using agile methodology, always keeping you in the loop. Streamlined delivery, cost effective engagements, designed to match your goals, your timeline and your budget.
"Customer Satisfaction is the Priority"
Emad Shabbara
CEO , Tech4Life
Why Brands Choose Tech4Life as their Mobile Development Agency
Here are just some of the ways that we stand out as a company when it comes to what our experience is with mobile and creating digital experiences.
 Agile mobile design and development methodology

 Assistance with the App Store and Google Play acceptance

 Award winning mobile design and development solutions

 Collaborative, transparent and communicative client-focused approach

 Competitive rates for top mobile app developer talent

 Comprehensive quality assurance (QA) testing before project "Go Live" event

 Cross-functional team of 300+ experts based in the Americas, Europe & Asia

 Ongoing production scheduling and reporting available

 In-house, front-end experts: Business Analysts, UX/UI Specialists & Creative Designers

 Native, cross-platform and HTML5-based mobile app solutions

 Proven track record of successful mobile project delivery

 Rapid, cost-effective services for mobile platform development
Top Mobile App Developers
The goal of our mobile development agency team is to not only bring your idea for an app to reality, but to help your organization reach more customers, operate more efficiently and lower the costs of doing business.
iOS & Android App Development Agency
Appnovation's iOS app development team has a tremendous amount of experience in developing apps for the iPhone and iPad. Appnovation's Google Android application development utilizes the Android SDK and platform to create innovative and dynamic applications for Android mobile devices.
Cross-Platform & HTML App Development Firm
As a leading app development agency specializing in creating and building mobile and cross-platform experiences.
For more information, please click here
For E-Commerce mobile application Limited Offer Click here
Send to us on whatsapp

01032805258
usually we reply within 24 hours